Words from
Rafael
"You never know how God will bless your life with a job you really like, not only I love dogs and cats, but also I like to interact with clients. I feel this is not a simple job because it is not just "to walk a dog or feed a cat," but we have to take care of them with compassion, professionalism, and love.
Since I was a kid, I have been around of pets and I know the treasure of having one. I know that when having a pet to take care of, not only do you need to walk, feed, and clean up after him/her, but also you need to give them love, attention and care. For anyone who has a pet out there, you know that a pet is not just a ''pet'', they become a loved family member, it is like a child of yours. I love my family and my friends very much, but also I have a special place in my heart for animals. I really like and enjoy my job and that's why I make sure to train my team members the right way. It makes my heart happy when a client comes and tells me how grateful they are for taking good care of their pets.
In my opinion, dogs are one of God's gifts to humans. We owe our pets more than a roof and two cans of food a day. In addition, we know what makes our dogs most happy "THE WALK" and it is something that you can still do for your dog when work or travel keeps you away from home. With Arlington Pet Pals, you can rest assured that the person who comes into your home and whom you are relying on to care for your pet is responsible and trustworthy. I can assure you, that honesty, reliability and integrity are more than just words to me. "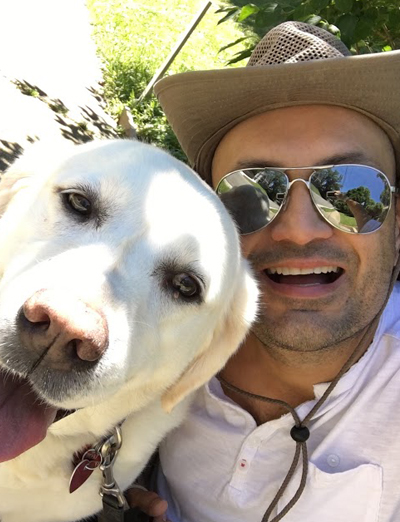 In Arlington Pet Pals, your satisfaction is our reward
Cristian Vargas
Dog Walkers
Bobby, was the name of the puppy we recue, the smallest member of the family, it was full of love and smiles, a beautiful German Shepperd who helped me going grocery shopping among others things. I loved him very much, and this job reminds me a lot of my younger days with my precious friend. Having the opportunity to meet these wonderful dogs and have them become your friends thus gaining their trust is the best gift they could ever give to me. Seeing the excitement and joy in their eyes when they greet you with such affection truly does mean a lot. I do consider this more than a job. When I'm scheduled I'm not just going into work, I am going to visit my second family that I have to take care of and make sure they are content to the fullest extent possible. The reward, seeing their smiles and affection during our time together. A job I am very grateful for.
Marina Pharis
Dog Walkers
My name is Marina Pharis and I grew up in Alexandria, VA. My experience with dogs comes from having had grown up with one myself, a small Bichon Frise poodle. Growing up in a very walk-able neighborhood I also had the opportunity to take on small pet-setting jobs through out the years. Having decided to take a gap year in between high school and college, dog-walking offered the perfect job. It beats retail by far! One of my favorite aspects about the job is being to get to know so many different types of breeds of dogs. I also enjoy getting to know the families of the all the different dogs. It's always amazing to see the connection a family can have with their dog!
Melanie Campos
Dog Walkers
HI! My name is Melanie. I was born and raised in Northern Virginia. I was in school and will return in the fall to finish my ADN degree. In the meantime, I have been working with the company for a few months now and all I can say is that I really love my job. The experience of growing up with dogs and cats in the home has allowed me to better understand and care for the animals I work with daily. Each dog and cat is unique and with a little bit of time and a whole lot of affection, they all become a pleasure to work with! I also enjoy watching the interaction the pet has with the family. It is nice to see the bond between the pet and family come to life.
Thaiana Rodrigues
Dog Walkers
Hello, my name is Thaiana, I am originally from Brazil and have been working in Arlington Pet Pals for more than 2 years. I spent my whole life around dogs and became amazingly happy when I got the opportunity to be a pet nanny. I consider walking and caring dogs a very enjoyable and worthwhile job. It's interesting how each dog has it's own personality and how with time they get really close to us. For me the best part of being a dog walker is seeing them having fun and getting all excited when they see me coming thru the door. I believe pets have feeling and can identify when you like them or not. Being a dog walker is not easy all time, because you get exposed to all types of weather, and sometimes it makes challenge to walk the dogs on very hot or cold days. But I think when you like what you do, it's easier to handle the issues that any job could has.
We know what makes our dogs most happy
.