Words from
Rafael
"You never know how God will bless your life with a job you really like, not only I love dogs and cats, but also I like to interact with clients. I feel this is not a simple job because it is not just "to walk a dog or feed a cat," but we have to take care of them with compassion, professionalism, and love.
Since I was a kid, I have been around of pets and I know the treasure of having one. I know that when having a pet to take care of, not only do you need to walk, feed, and clean up after him/her, but also you need to give them love, attention and care. For anyone who has a pet out there, you know that a pet is not just a ''pet'', they become a loved family member, it is like a child of yours. I love my family and my friends very much, but also I have a special place in my heart for animals. I really like and enjoy my job and that's why I make sure to train my team members the right way. It makes my heart happy when a client comes and tells me how grateful they are for taking good care of their pets.
In my opinion, dogs are one of God's gifts to humans. We owe our pets more than a roof and two cans of food a day. In addition, we know what makes our dogs most happy "THE WALK" and it is something that you can still do for your dog when work or travel keeps you away from home. With Arlington Pet Pals, you can rest assured that the person who comes into your home and whom you are relying on to care for your pet is responsible and trustworthy. I can assure you, that honesty, reliability and integrity are more than just words to me. "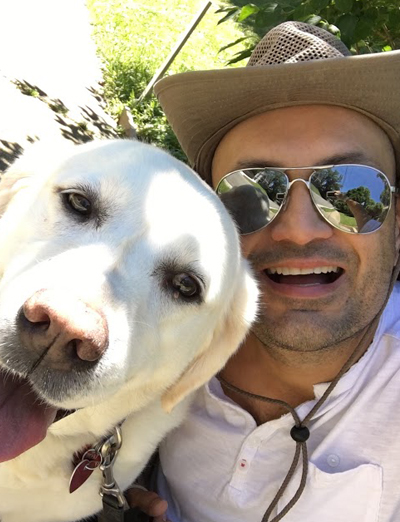 In Arlington Pet Pals, your satisfaction is our reward
Jhoana Garcia
Dog Walkers
My name is Jhoana Garcia. I was born in El Salvador and raised in Washington DC and now I am living in VA. My love for animals started at a very young age. I love caring for pets and I treat every single one like they're my own. I currently have a Bunny, her name is Bella. I adore her. It's such a pleasure to work with animals every day, love spending time with every single one of them, small and big. Every single pet has a different and unique story and their own little personalities which always make this job so much more interesting & fun. I love to see how each and every single-family care for their pets & love them as a significant part of their family.
Daniel Batres
Dog Walkers
My name is Daniel Batres and I am the youngest of three brothers. I moved to Virginia with my family nine years ago. I love sports, especially soccer. I studied music in my home country and I play piano, guitar and other instruments
Although I already had some experience with dogs, Arlington Pet Pals allowed me to learn more about them, about their care and behavior. And my love and passion for pets, it's make me want to learn more about it. Recently, as part of Arlington Pet Pals' education, we received a certificate for "CANINE AND FELINE CPR."
I like dogs, cats and all kind of pets that make me love my job. Every day I try to do my best, so that "MY PUPPIES" -- as I call them -- have a great time while I'm with them.
Gabriel Valladolid
Dog Walkers
Gabriel has been working in a Customer Service area for years – Our clients really like him. The dogs that Gabriel has been fortunate enough to have in his family from the earliest days have varied greatly by size, breed and temperament. They include an Old English Sheepdog, Basset Hounds, German Short-hairs, Shetland Sheepdogs, Golden Retrievers, Cocker Spaniels, King Charles Spaniels, a particularly incorrigible "Golden Doodle"- and an angel disguised as a Bernese Mountain Dog.
Gabriel believes that the term "Guide Dog" is redundant. ALL dogs are guide dogs- they guide us from one chapter of our lives to another- and in doing so they nurture US. The fact that they expect only such modest care from us in return is further testament to the deep yet simple virtue of these extraordinary creatures. Simply put, they are divine.
Gabriel takes quiet daily joy in providing good company to the canine clients of Arlington Pet Pals- and considers himself an apprentice to his friend Rafael.
Marina Pharis
Dog Walkers
My name is Marina Pharis and I grew up in Alexandria, VA. My experience with dogs comes from having had grown up with one myself, a small Bichon Frise poodle. Growing up in a very walk-able neighborhood I also had the opportunity to take on small pet-setting jobs through out the years. Having decided to take a gap year in between high school and college, dog-walking offered the perfect job. It beats retail by far! One of my favorite aspects about the job is being to get to know so many different types of breeds of dogs. I also enjoy getting to know the families of the all the different dogs. It's always amazing to see the connection a family can have with their dog!
Dalila Espinoza
Dog Walkers
My name is Dalila Espinoza, I was born and raised in Arlington Virginia. I am currently going to college and working in this great company. I consider myself friendly, energetic and I always love to do my best on everything. I love animals but my favorites are dogs and cats. Dogs make people's life much better! My parents are Salvadorian so that make me Latina, something I am proud of. I am glad to be working in this company, to be with my favorite pets. Happy to come to work every day. And I can say, I am not just animal lover but also Professional Pet Sitter.
We know what makes our dogs most happy
.